Local Area Emergency Responders Celebrate Formalized Safety Partnerships
Nov. 15, 2023 (Lincoln, Neb.) — Today, the Nebraska Department of Transportation (NDOT), together with the
Nebraska State Patrol (NSP), held a ceremony to celebrate the signed Memorandum of Understanding (MOU)
between first responders in Buffalo, Hall, Kearney, and Adams Counties.

Formalized Traffic Incident Management (TIM) partnerships in Central Nebraska support the group's progress in
moving TIM initiatives forward to improve safety, reliability, and efficiency on the roadway. This marks a major
milestone in the NDOT program, which has been working for over a decade to advance TIM in targeted areas.

At the ceremony, The Governor's Office, NSP, NDOT, and local first responders spoke about the critical work
our responders do to keep roadways safe in Nebraska.

"NDOT and NSP already coordinate closely with many of our regional partners across the state to work to
improve traffic flow and respond to incidents quickly", said Colonel Bolduc. "Today, we celebrate continued
and new partnerships with our local responders with our Traffic Incident Management Program will help continue
to foster community growth and training for our responders."

"NDOT is proud to be here today with so many of our partners in safety to celebrate this memorandum of
understanding between first responders." Said Wes Wahlgren, NDOT District 4 Engineer. "The TIM program
has brought additional collaboration and stronger relationships with our responding agencies. With safety ever
present, the principles we learn together help us prevent additional tragedy on our highways."

"Every state employee deserves the right to a safe work environment and to return safely to their family at the
end of their shift," said NAPE Executive Director Justin Hubly. "Without the cooperation of the motoring public, the
safety of our members is not guaranteed."

NDOT's TIM Program is focused on the safety of roadway users and the professionals who respond to traffic
incidents. Incident responders' risk of injury or death is constant. According to the National Traffic Incident
Management Coalition (NTIMC), traffic crashes and "struck-by" incidents continue to be a leading cause of
on-duty injuries and deaths for law enforcement officers, firefighters, emergency medical services personnel,
and towing and recovery professionals. NDOT's TIM Program brings emergency professionals together and
promotes best practices so incidents like crashes can be cleared as quickly and safely as possible.
"As responders, our priority is safety. Safety of our people, safety of victims of incidents and the safety of the
traveling public, "said Hastings Fire and Rescue Chief Brad Starling. "The TIM program has helped bring our
safety partners together to highlight safe work and educate the public on moving over and slowing down when
approaching incidents."

This group of responders in Central Nebraska has met regularly over the last three years to advance TIM and
has built and fostered relationships resulting in an MOU, which pledges that TIM partners across the area will
continue to work cooperatively towards safe and quick incident clearance. Participants include federal, state
and local transportation agencies, law enforcement, fire and rescue, emergency communications, tow operators,
emergency managers and others.

"Traffic Incident Management is a key tool that helps us as responders address the scene quickly and render
appropriate aid," said Kearney Police Chief Bryan Waugh. "We are proud to partner with the Nebraska State
Patrol and the Nebraska Department of Transportation to continue to bring best practices to the Tri-City area."

Takeaway TIM Tips:
Crash Responder Safety Week (CRSW) was last week, November –13-17 [#CRSW], and NDOT highlighted
how they are working throughout Nebraska to keep our roadway users and crash responders safe! It's called
Traffic Incident Management – TIM for short. When traffic incidents like crashes occur, TIM training helps first
responders clear the scene safely and quickly to keep traffic moving. We're all in this together, let's work together
to keep our highways safe and flowing.

Traffic incidents are the leading cause of death for emergency responders. For every minute a primary crash
continues to be a hazard, the risk of a secondary crash goes up nearly 3% - increasing risk to drivers' lives and
our first responders' safety.

If you're in a minor crash where no one is seriously injured, you should stay in your vehicle and move it to the side
of the road to a safe location. This helps keep you, other drivers, and emergency personnel assisting you safe.

Every minute a lane is blocked causes four extra minutes of delay. Traffic incidents are a key cause of
unexpected congestion. Americans burn more than 2.8 billion gallons of gas each year due to incident-related
traffic congestion.

Public messaging is a critical component in keeping roadway users and crash responders safe. NDOT, public
information officers, and the media provide important messages to the traveling public, including detours, Move
Over Slow Down laws, and distracted driving campaigns.

For Nebraska's Move Over, Slow Down laws, if you see emergency or road assistance vehicles stopped on the
side of the road, move over and/or slow down as you pass. This keeps our roadside responders safe.

NDOT wants all roadway users to join them by accepting the Buckle Up Phone Down Challenge. Whether it's
down the street or across the country, buckling up and putting your phone down are two of the most impactful
actions any driver can take to prevent crashes or reduce injury if a crash occurs. This challenge helps protect
yourself, as well as your family and community. We're all in this together.

For more information, visit dot.nebraska.gov/safety/tim/. Follow us on Twitter/X @NebraskaDOT, @NEStatePatrol, @USDOTFHWA, #CRSW
Responders from Across the State Train Together to Improve Safety
Nov. 3, 2023 (Lincoln, Neb.) — Today, emergency responders and those supporting Traffic Incident Management (TIM) operations participated in a live field exercise designed to give all disciplines a better understanding of TIM best practices.
This Traffic Incident Response Exercise (TIMEX), supported by the Nebraska Department of Transportation (NDOT) and the Nebraska State Patrol (NSP), was held at the Law Enforcement Training Center in Grand Island. Law enforcement officers, fire and rescue personnel, emergency medical services, transportation agencies, towing and recovery professionals, notification and dispatch personnel, hazardous materials management responders, coroners and medical examiners, and public works professionals were represented from across the state. The multi-disciplinary training was an opportunity to expose responders to different aspects of a crash response, and foster an environment to discuss best practices, lessons learned, and strategies for a cohesive response.
"Opportunities for responders to collaborate with those of different disciplines don't come around as frequently as we'd like. Busy schedules, staffing, and the everyday demands of life make it difficult, but those challenges don't overshadow the critical need to have this type joint training," said Colonel John Bolduc, NSP Superintendent of Law Enforcement & Public Safety.
Participants worked side-by-side to walk through scenarios involving:
Livestock emergencies
Hazardous materials spills
Establishing a traffic incident management area
Safe, quick clearance strategies – push, pull, drag, drive
Expedited crash investigation
Air ambulance services
Each scenario incorporated key focuses on TIM fundamentals and terminology, incident command, interagency communications, and scene safety.
"Our goal at NDOT is to provide Nebraskans with the highest quality of life possible, and this includes our emergency responders. They dedicate their lives to providing for our safety, and their safety is our priority too," NDOT Director Vicki Kramer said. "We've been planning TIMEX for months, and the need for such training became apparent this fall with the loss of two NDOT teammates. This month, we turn our eye to safety of our responders and roadside workers including Crash Responder Safety Week November 13-17 and celebrating continued collaboration with our safety partners. We want to show our support by continuing to invest in the skills and knowledge of our teams. At the end of the day, it's all about our people."
This exercise was part of a statewide effort to improve TIM on our roadways. Effective TIM keeps emergency responders, crash victims, and motorists safe. When crashes or disruptions occur, TIM practices reduce the duration and impacts of traffic incidents.
"Great efficiency in these situations means enhanced safety. We're able to work together with other responders to address the situation, care for those involved, clear the roadway, and get traffic flowing again." Said Major Jeff Wilcynski of the Nebraska State Patrol. "Every minutes saved in response to a crash reduces the risk of secondary crashes. This partnership has held over 100 training classes in Nebraska and has trained more than 250 agencies and 2,000 individual responders.
For more information, visit dot.nebraska.gov/safety/tim.
NDOT and NSP to Host Live Traffic Incident Management Field Exercise
Nov. 1, 2023 (Lincoln, Neb.) — The Nebraska Department of Transportation (NDOT), together with
The Nebraska State Patrol (NSP), is sponsoring a live Traffic Incident Management (TIM) field exercise
Friday, Nov. 3, at the Law Enforcement Training Center in Grand Island.
TIM is a planned approach to detect, respond to, and clear traffic incidents. This exercise, referred to
as TIMEX, is designed to give emergency responders and those supporting TIM operations a better
understanding of TIM best practices. Approximately 80 responders from diverse disciplines across the
state will come together to work through several unique scenarios pertaining to crashes on roadways.
The goal of TIMEX is to expose responders to the complexities of a crash response, specifically through
the perspectives of their partners. Having preestablished relationships and understanding the priorities
and challenges of each discipline promotes safe and efficient responses.
What:    NDOT and NSP host live field exercise and press conference for emergency responders statewide
When:   Friday, Nov. 3, 2023
Where:  Nebraska Law Enforcement Training Center (outdoor event)
              3600 N Academy Rd., Grand Island, Neb.
Who:     Vicki Kramer, Director of the Nebraska Department of Transportation
                Major Jeff Wilcynski, Nebraska State Patrol
                Troy Wells, Lone Tree Towing
For more information, visit dot.nebraska.gov/safety/tim
NDOT and NSP Announce Motorist Assist Program in the Greater Omaha Metro Area
Nov. 1, 2023 (Lincoln, Neb.) — Today, the Nebraska Department of Transportation (NDOT) along
with the Nebraska State Patrol (NSP) announced the new Motorist Assist Program for the Omaha
Metro area.
The Motorist Assist Program provides another safety tool in the toolbox for NDOT, NSP, and local
responders to help with motorist, incidents and patrolling and monitoring highways for repairs and
other needs. The focus of the Motorist Assist Program, as with all things we focus on, is safety. Safety
service patrols, such as this one, have been proven to improve efficiency of the system, reduce
congestion, improve highway safety for responders, and provide timely and accurate information to
the NDOT's Traffic Management Center on conditions.
"Our goal at NDOT is to continue to work with our safety partners to bring together collaborative
programs." NDOT Director Vicki Kramer said. "We use multiple tools and resources to help improve
our system. This program is one more tool in our toolbox that will help us increase safety in the metro area."
Motorist Assist trucks will patrol the freeway and interstate systems and will dispatched to other NDOT
roadways in Omaha metro from 6 a.m. to 7 p.m., Monday through Friday; and some holidays and
special events. In addition to patrolling the area, the NDOT Traffic Management Center uses traffic
cameras to monitor roadways and can direct Motorist Assist trucks to needed locations.
"We look forward to continuing our tradition of providing quality service to motorists in the Omaha metro
area." Said Joe LaBella, General Manager of Autobase. "It is an honor to provide valuable resources
to first responders, law enforcement, NDOT and motorists as they travel to work and home on a daily
basis."
"While our troopers patrol metro roadways around the clock, adding this professional team to help those in
need of assistance enhances our collective public safety mission," said Nebraska State Patrol Captain Greg
Miller, Commander of Troop A. "The new motorist assist program is a force multiplier to locate stranded
motorists quicker and get them back on the road safely."
For more information, visit dot.nebraska.gov/safety/tim.
NDOT, Partners Focus on Responder Safety in November
Crashes on Nebraska's roads can be truly life-altering for those involved and communities at large. It's crucial that responders arrive to the scene as quickly as possible, help victims and quickly clear the roads to prevent further crashes. This not only ensures the safety of those involved but also those who rely on the roads for daily travel.
Responding to these situations requires a coordinated effort from a variety of agencies and organizations to include firefighters, Emergency Medical Services (EMS), tow operators, the Nebraska Department of Transportation (NDOT) and law enforcement. Collaboration between these agencies is essential to ensure the safety of those involved in a crash as well as all responders at the crash site. The job of crash responders is not an easy one. Between January and September 2023, 27 responders lost their lives nationwide while they were responding to or working a crash scene. This is a stark reminder of the dangers they face every day while trying to keep our roads safe.
These first responders are not the only ones at risk. Secondary crashes to an initial crash are often more serious in nature. A recent study discovered that over 9% of all crashes in Virginia were secondary crashes, emphasizing the need to clear initial crashes quickly and restore mobility.
Since 2020, NDOT and the Nebraska State Patrol (NSP) have collaborated with local first responders across the state, in the greater Omaha metro area and along the I-80 corridor to develop multi-disciplinary Traffic Incident Management (TIM) response groups. These groups meet regularly to discuss crashes, best practices in response and develop methods to improve safety for responders, methods to improve quick clearance, and incorporate proven and effective methods to reduce secondary crashes.
NDOT, together NSP and other TIM partners, will be hosting three events in November to highlight crash responder safety.
Nov. 1, Announcement of the new Motorist Assist Program in the Omaha Metro Area – This program will significantly improve safety in this fast-growing region by providing resources for motorists, NDOT and NSP to help manage the traffic on the roadways.

9:30 a.m.
NDOT State Operations Center, 4425 S 108th St, Omaha
Nov. 3, Traffic Incident Response Exercise (TIMEX) – A joint operation between NDOT and NSP, this training exercise will allow TIM groups the opportunity to practice crash response in real time, on a closed course. Participants will be from EMS, fire, law enforcement, NDOT, tow operators, dispatchers and other parties who routinely respond to crashes. The focus will be on responder safe practices to render aid, protect and manage a complex scene, and motorist safety. While this event is not open to the public, there will be a press event to which the media are welcome.

10 a.m.
Nebraska State Patrol Academy, Grand Island
Nov. 15, Crash Responder Safety Week & Memorandum of Understanding (MOU) Signing – Crash Responder Safety Week is November 13-17. To help highlight the importance of crash responders, Nebraska recognizes this week with a press conference to recognize responders. Additionally, we will be celebrating an MOU for the Tri-City area crash responding agencies, memorializing the commitment to work together in the name of safety.
11 a.m.
NDOT Kearney Maintenance Yard
Separate media advisories will be sent prior to each event, and separate press releases will be provided following each event.
Nebraskans Encouraged to Buckle Up and Minimize Distractions While Driving
On October 25, Governor Jim Pillen joined the Nebraska Department of Transportation (NDOT) in encouraging drivers to prioritize roadway safety as Nebraska joins states across the nation in recognizing National Buckle Up Phone Down Day. Seatbelt usage and distracted driving are two of the top choices drivers can make to significantly reduce the chances of injuries or death, resulting from a crash. In fact, wearing a seatbelt reduces the chances of death by 45% in a car and 60% in a truck, according to the National Highway Traffic Safety Administration.
Between 2011 and 2020, over 1,400 Nebraskans had a crash because they were distracted by a mobile device. Additionally, 77.6% of fatalities on Nebraska roadways in 2020 were reported to have no seat belt use, the highest in nearly a decade. The observed seat belt usage rate for the State in 2022 fell to below 80% for the first time since 2014.
Nebraska first launched the Buckle Up Phone Down initiative in 2021 and renewed it in 2023. The focus of the campaign has been shifted to Nebraska's youth, our next generation of drivers. NDOT's Highway Safety Office have recently partnered with the Nebraska School Activities Association (NSAA). The initiative provides NDOT the opportunity to emphasize the importance of safe driving through strategic partnerships.  
"We have always looked to our children, as our future of Nebraska, and we look to continue to support them growing into future generations," said Governor Pillen. "Making the right choices – buckling up and putting the phone down every time you get behind the wheel – sets the example to make the right choice for your children, our future drivers. Remember our children are watching, they do 100 percent of what we do."
"As a parent, I understand the significance of leading by example. It's crucial we take responsibility, buckle up and minimize distractions," said NDOT Director Vicki Kramer. "At NDOT, we care deeply about cultivating responsible future drivers. We are actively investing in safety education initiatives like Buckle Up Phone Down as a way to draw awareness to the issue and also create personal responsibility. Choosing to prioritize your safety by something as simple as wearing your seatbelt and avoiding phone usage helps ensure everyone gets home safely."
On October 25, Nebraska, together with states across the nation, recognizes National Buckle Up Phone Down Day and encourages Nebraskans to remember to wear their seatbelt and put the phone down every time they get into a car.
To learn more about the NDOT's Buckle Up Phone Down Campaign, visit here.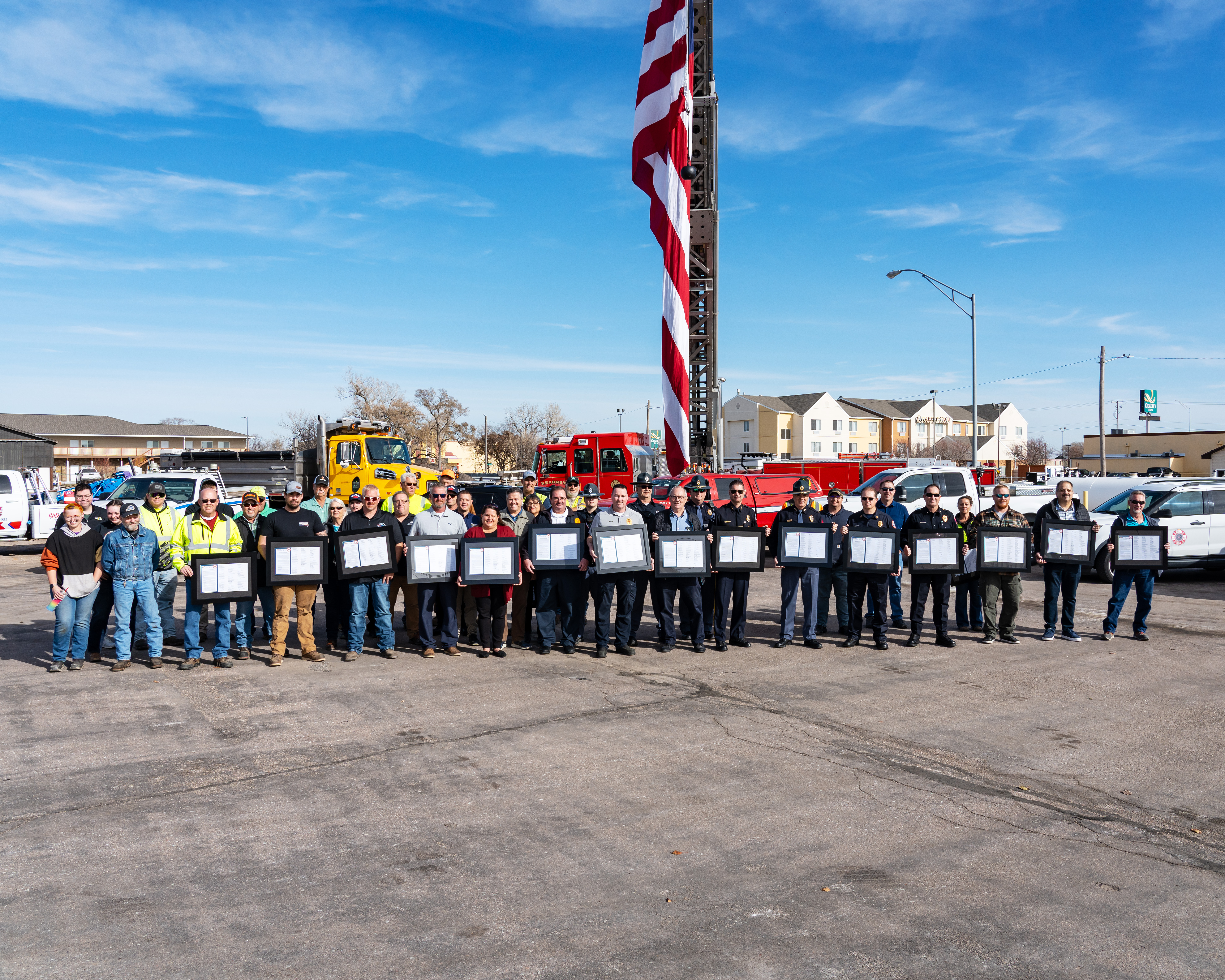 First Responders at the MOU Event in Kearney
NDOT District 4 Engineer, Wes Wahlgren 
First Responders with the signed MOU
NDOT Teammates at the MOU Event in Kearney
Responders Huddle at TIMEX Event
Responders Huddle at TIMEX Event
Jim Macy - Director DEE, Vicki Kramer Director NDOT, NSP Major Jeff Wilcynski 
Responders Huddle at TIMEX Event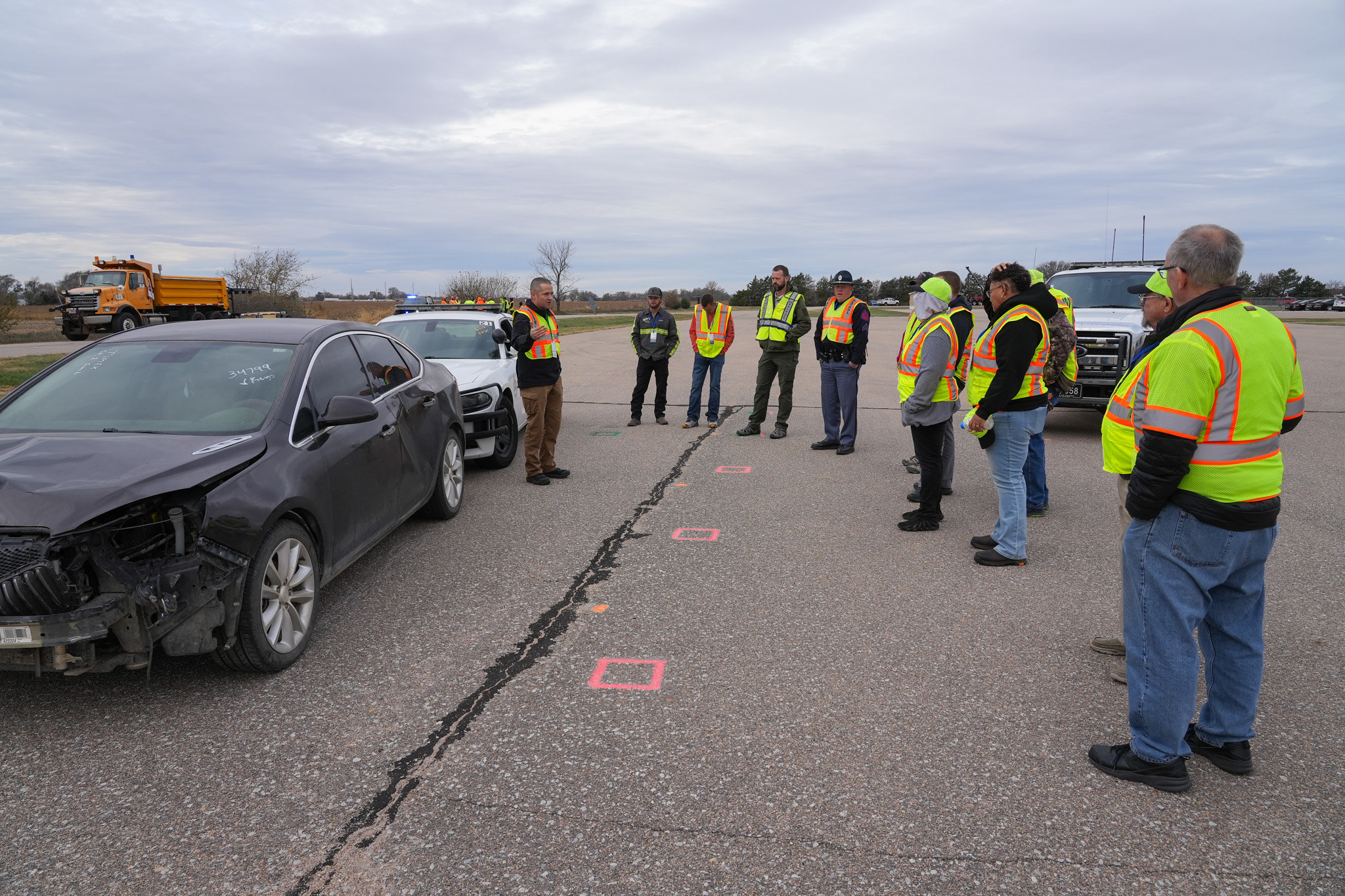 Responders Huddle at TIMEX Event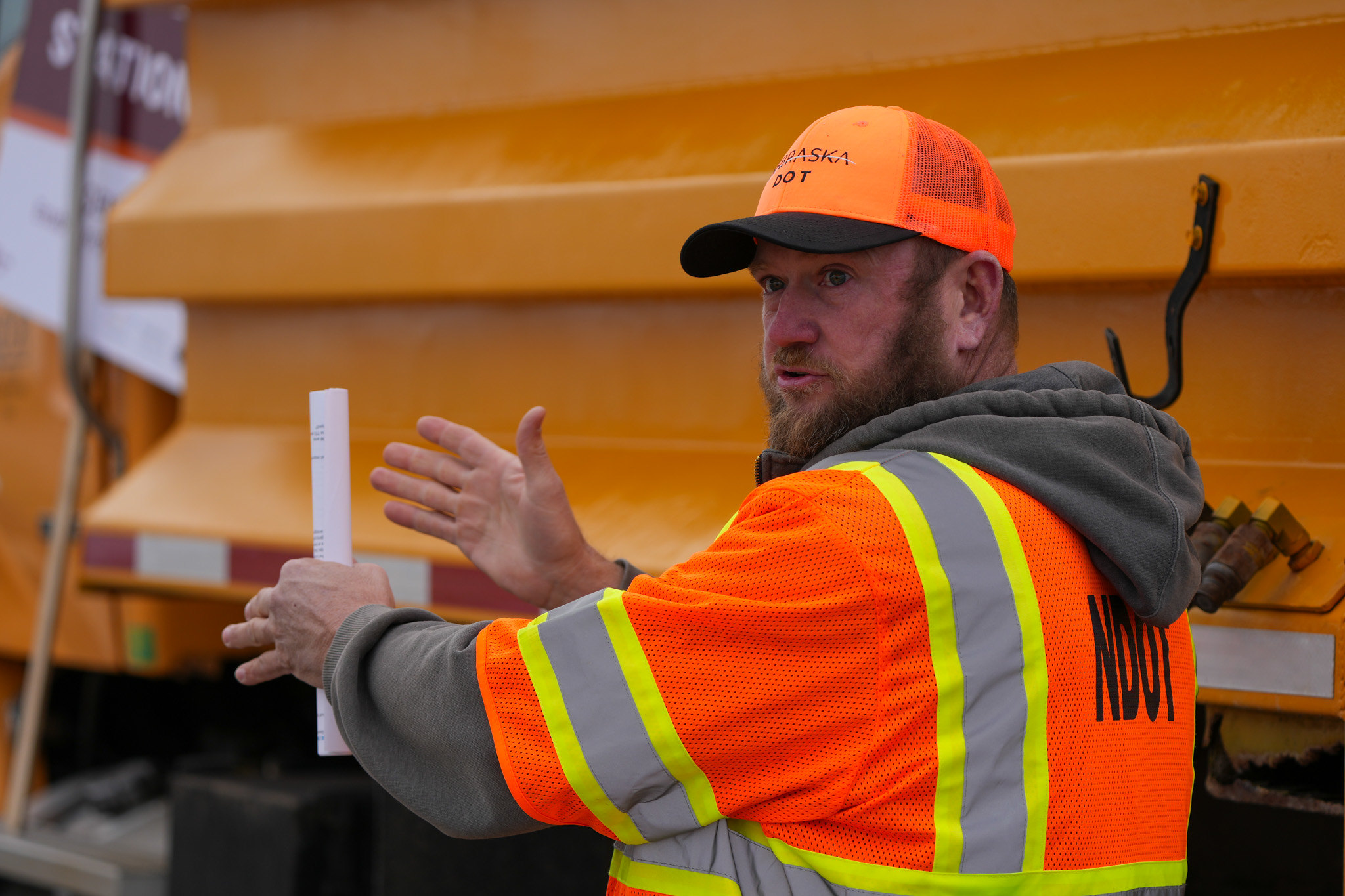 NDOT Teammate Explains Response Scene
Responders Huddle at TIMEX Event
NDOT Teammates Huddle at TIMEX Event
NDOT Motor Assistant Truck
NDOT Director Vicki Kramer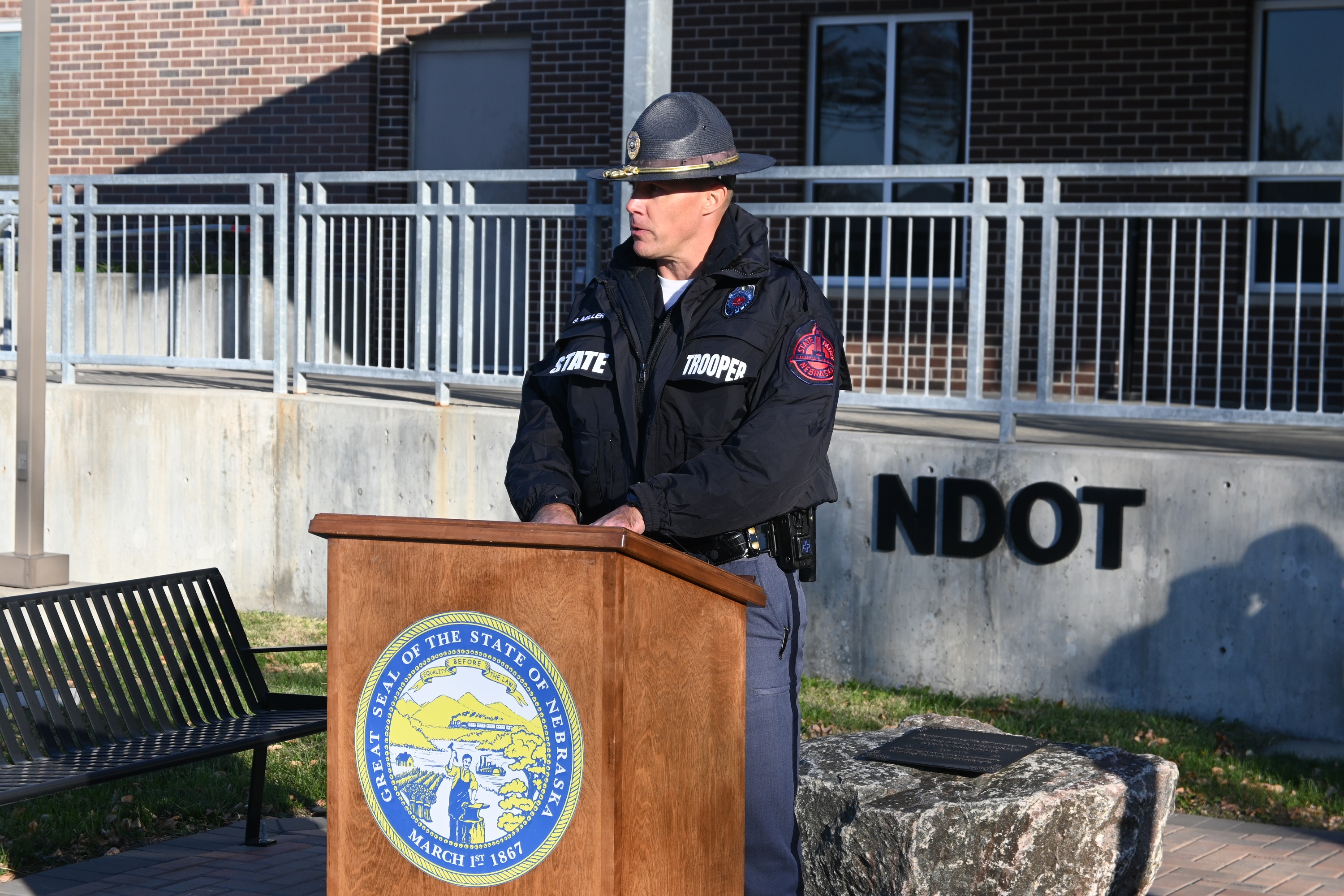 NSP Captain Miller
Autobase General Manager Joe LaBella
Credit: Nebraska Department of Transportation